2024 Honda Civic in Chatham, ON
View Inventory View Gallery Contact Us
The 2024 Honda Civic in Chatham offers a range of exciting features and enhancements. This article will take an in-depth look at the features that make the 2024 Honda Civic an exceptional car.
Notable Changes from the Previous Year
For 2024, Honda is introducing a hybrid powertrain option to the Civic lineup. The Civic hybrid will be available in both sedan and hatchback models, featuring a hybrid powertrain inspired by the success of the Accord hybrid. This powertrain includes a four-cylinder engine paired with two electric motors, delivering an impressive horsepower range between 180 and 200. With this hybrid option, the Civic offers enhanced performance and fuel efficiency.
Infotainment and Technology Features
The 2024 Civic comes equipped with a standard 7.0-inch touchscreen infotainment display, providing easy access to various functions. However, for those seeking a larger screen, a 9.0-inch unit is available as an option. Additionally, a 10.2-inch digital gauge display can be added to enhance the technological experience.
Seamless smartphone integration is provided through standard Apple CarPlay and Android Auto, which now offer wireless connectivity when paired with a larger screen. Optional features include in-dash navigation for easy navigation assistance, a high-quality Bose stereo system for an enhanced audio experience, and a wireless smartphone charging pad for convenient device charging on the go. The 2024 Civic ensures a connected and enjoyable driving experience.
Exterior Design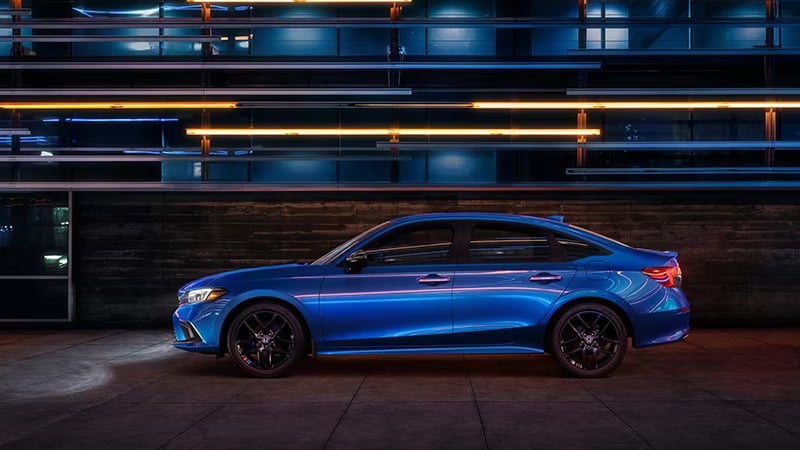 The 2024 Honda Civic features a bold and athletic exterior design that grabs attention wherever it goes. The striking daytime running lights, fog lights, and mirror-integrated LED turn signal indicators enhance visibility and add to the overall aesthetic appeal.
The Civic offers a variety of wheel options to suit individual preferences. Every Civic Sedan comes with all-season tires, and customers can choose between 16" steel rims or the available 16" or 18" aluminum alloys, allowing for a personalized style statement on the road.
Interior Comfort and Cargo Space
Inside, the 2024 Subaru Crosstrek Wilderness boasts a stylish and functional design. The dashboard features clean lines and a honeycomb-patterned design element, which cleverly conceals the air vents. This design element adds a touch of sophistication to the interior.
One notable improvement is the wide center console, which creates a clutter-free space compared to the previous model. This console provides a large, deep bin ahead of the shift lever, perfect for storing smartphones, keys, and road-trip snacks. This convenient storage solution lets you keep your essentials organized and within easy reach.
Passenger comfort has not been compromised in the Crosstrek Wilderness. The seating layout and dimensions remain consistent, ensuring ample space for all occupants. Whether you're driving or riding as a passenger, you'll enjoy a roomy and comfortable experience throughout your journey.
In terms of cargo capacity, the Crosstrek Wilderness has an expanded cargo bay. This means you'll have plenty of space to store luggage, groceries, camping gear, or any other belongings you need to bring along on your adventures. No matter where your journey takes you, you'll have ample storage capacity for all your needs.
Engine and Performance Features
Although the 2024 Honda Civic received a significant redesign in 2022, the powertrain options carry over from the previous generation. Base models are equipped with a 158-horsepower 2.0-litre four-cylinder engine, providing reliable performance. The upgraded engine is a turbocharged 1.5-litre four-cylinder, now generating 180 horsepower for an extra boost. The Civic is offered exclusively as a front-wheel-drive car. Also, the manual transmission option has been discontinued, leaving the continuously variable transmission (CVT) as the only offering.
Safety and Driver-Assistance Features
Safety is a top priority for Honda, and the 2024 Civic comes equipped with a range of standard driver-assistance features. Automated emergency braking with pedestrian detection is among the standard safety features, allowing the vehicle to detect potential collisions and automatically apply the brakes to mitigate or avoid accidents.
The Civic also includes a standard lane-departure warning with lane-keeping assist, ensuring drivers stay on the right path and avoid unintentional lane changes. Adaptive cruise control provides enhanced convenience and safety on long journeys, automatically adjusting the vehicle's speed to maintain a safe distance from the vehicle ahead.
Trims With Pricing*
LX-B $28,754

EX $31,614

Sport $32,711

Touring $36,461
Reserve Yours Today
The 2024 Honda Civic in Chatham introduces a variety of exciting features and improvements to the popular model. Whether it's the introduction of the hybrid powertrain, advanced infotainment and technology features, or sleek design, the 2024 Honda Civic continues to impress. Explore these features at your local dealership and experience the exceptional 2024 Honda Civic for yourself.

All pricing is based on Ontario MSRP and does not include taxes and fees. Dealer pricing may differ. Prices are subject to change anytime without notice.
Reserve This Vehicle Today!
2024 Honda Civic Photo Gallery