2020 Honda Civic vs 2020 Toyota Corolla
2020 Honda Civic
2020 Toyota Corolla
2020 Honda Civic vs 2020 Toyota Corolla at RoadSport Honda
The compact vehicle segment is full of models that offer automotive consumers from Scarborough, Markham, Richmond Hill, Pickering and surrounding areas of Ontario the best of design, technology, convenience, and comfort. However, two vehicles have set themselves apart from the rest of the pack. The 2020 Honda Civic and 2020 Toyota Corolla are considered the segment's heavyweights and for good reason. The Honda Civic has been crowned the best-selling car in Canada for several years, while the Toyota Corolla is not far behind. Both offer features that consumers have come to expect from two brands that focus on reliability, design, and practicality. So this would be the perfect time to put them head to head.
At Roadsport Honda, we are pleased to offer the 2020 Honda Civic along with a new vehicle inventory that is sure to have the model you are looking for. Visit us online, in-store or contact us to learn more about this award-winning vehicle. Now let's find out how it stacks up against the Toyota Corolla.
Comparison: Style
In terms of styling, both offer a unique take on the compact vehicle persona. The majority of automotive journalists prefer the aggressive and angular design of the 2020 Civic versus the Corolla. The interior design of the Civic really showcases what consumers in this segment are looking for, while the Corolla has been labelled as boring. According to Car and Driver, the Civic is "A well-rounded compact car that goes above and beyond its stellar reputation." While the "The Corolla is a safe and stylish compact car-nothing more, nothing less."
2020 Honda Civic Interior
2020 Honda Civic Exterior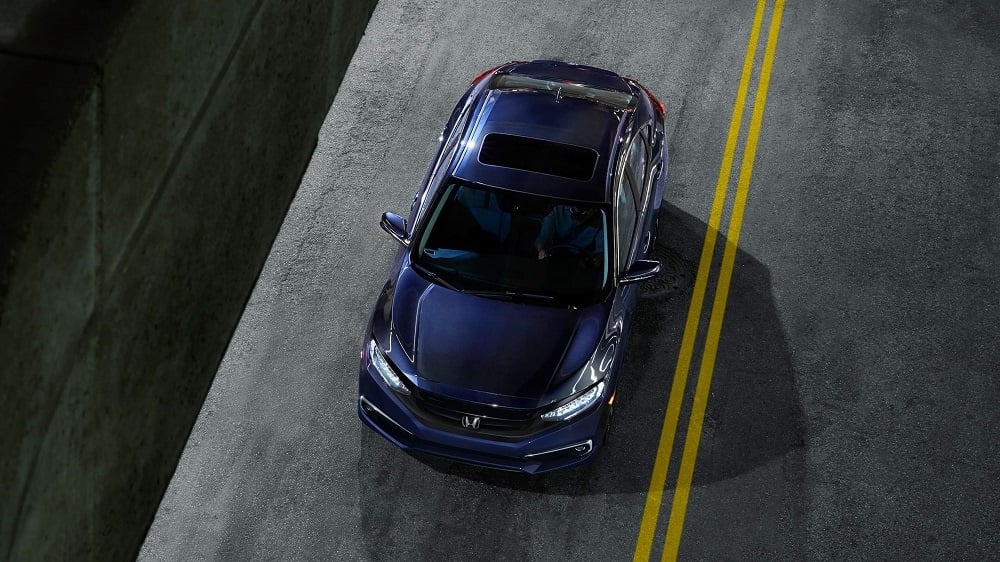 Comparison: Safety and Technology
The 2020 Honda Civic scored high marks in crash-test scores as it is a great option for those who prioritize safety. Every Civic has a host of driver-assistance features, including automated emergency braking, adaptive cruise control, lane-keeping assist and much more. Inside you will find a 7.0-inch touch screen infotainment system that features Android Auto and Apple CarPlay. Navigation, SiriusXM satellite radio, USB ports and a single 12-volt outlet help to keep you connected.
The 2020 Toyota Corolla comes in both a sedan and hatchback like the Civic and earned high marks for crash-test scores. Like the Civic, the Corolla also features driver assistance technologies like automated emergency braking, adaptive cruise control, and lane-keeping assist. With an infotainment system that features Apple CarPlay, Andriod Auto, USB ports, and others.
Comparison: Powertrain
The Honda Civic offers many different engine options though all are four-cylinder. Either get a naturally aspirated or a turbocharged version depending on your preference. A 2.0-litre pumps out 158 horsepower, while the turbocharged 1.5-litre offers 174 horsepower. You can opt for a six-speed manual or the industry's best continuously variable transmission (CVT)
The 2020 Corolla features either a 1.8-litre or 2.0-litre four-cylinder engine; there is no option for an efficient turbocharged engine like the Civic. The 1.8-litre only produces 139 horsepower, while the 2.0-litre makes 169 horsepower. Consumers can choose from a 6-speed manual or CVT.
Comparison: Fuel Efficiency
The 2020 Toyota Corolla's best fuel economy is rated at 7.6 L/100 km city, 5.8 L/100 km hwy, and 6.7 L/100 km combined. The 2020 Honda Civic offers 7.8 L/100 km city, 6.1 L/100 km hwy, and 7.1 L/100 km combined. We need to note that the Civic offers a more powerful, responsive, and fun to drive powerplant.
Visit Us
At Roadsport Honda, not only do we have a great selection of new Honda's for your consideration, but our pre-owned vehicle inventory is packed with great options. Our state of the art service centres offers trained technicians that are ready to tackle any repair. Schedule an appointment online and skip the line!
2020 Honda Civic Inventory in Toronto, Ontario